Steven Label & Robinson Printing through the years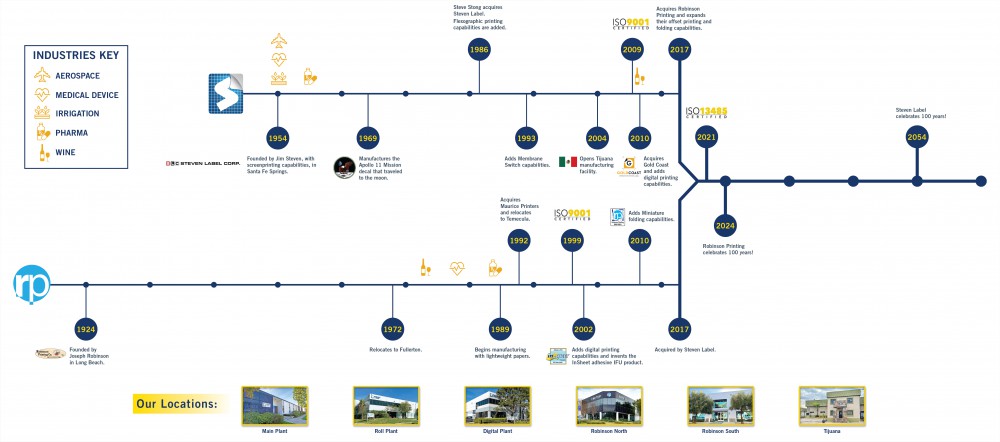 Steven Label:
In 1954, Jim Steven founded Steven Label and immediately went to work providing highly engineered, precision labels and graphic overlays for the Aerospace, Medical Device and Irrigation Industries. In 1969 Steven Label was approached by NASA to manufacture their astronaut-designed Apollo 11 patch. Later that year, Buzz Aldrin and Neil Armstrong landed on the moon wearing a specially engineered label / patch on their space suits, manufactured by Steven Label!
Our business has long focused on aligning materials and manufacturing processes guided by customer requirements. This mindset has directed our growth toward operating more like an engineering company . . . that just happens to be in the business of printing! Our experience serving several highly regulated industries has propelled us to become uniquely qualified specifically toward the medical industries – which today remains one of our largest market segments.
In 1986, Steve Stong approached the Steven family and arranged to acquire Steven Label. Steve's entrepreneurial spirit launched several exciting product expansions including, flexographic, digital printing, membrane switches and printed circuits. Steve remains our company president, to this day.
As Steven Label grew, and the need for managing hundreds, and later thousands, of open orders simultaneously – our processes required some serious workflow management. To solve this problem, we built and developed our very own "proprietary enterprise planning system" to manage the order to cash process. We named this system, STAT or Supply Team Automated Tracking.
To this day, STAT has become a very powerful and useful program, used internally to manage all aspects of our business. From material planning and engineering to order tracking and shipping, this system is used by our associates and helps us process orders effectively and efficiently.
Soon after STAT's development, Steven Label also made the decision to give our customers online access to STAT through our website which allows our customers to:
check order status, including ship and dock dates
view purchasing history by part number or purchase order
view specifications for each part
upload and approve artwork
view Certificates of Compliance, Certificates of Origin, Packing Slips and more
In 2004, we expanded operations to include our Tijuana, Mexico manufacturing facility, to better service our maquiladora customers located south of the border. This site comprises printing, specialty die-cutting, and kitting capabilities and complements our overall manufacturing strategy, and aligns with many of our customers' locations in the Western US and Mexico.
A few years later, in 2009, Steven Label expanded their Quality Management System (QMS) to include certification to ISO9001. As our QMS developed we decided to enhance certification to ISO13485, in 2020. Read more about ISO13485 here. Our QMS is a living and breathing program, constantly striving to fit seamlessly within our customers' stringent quality systems.
In 2010, Steven Label acquired Gold Coast Labels and expanded our presence in the Wine, Beer & Spirits Industries. We also expanded our digital printing capabilities during this time.
From the beginning, it has been the Steven Label employees, that set us apart. Many employees have been with us for 10 or more years. And here's a fun fact: there is one employee in particular, you may have heard of . . . before he became the lead singer of his band, Metallica, James Hetfield worked making labels at our Santa Fe Springs, CA facility.
Robinson Printing:
Born in Tennessee, Joseph Robinson, learned the craft of printing and moved to Long Beach, CA in 1924, where he incorporated Robinson Printing. For the first 45 years, the business was run by Joseph and his son Norman. Norman's eldest son, Mike, entered the company in 1964 and began running the business at age 27, when, tragically, both Joseph and Norman died on the same day.
Mike Robinson's eldest son, Dave, joined the company as a 4th generation printer, in 1983. In 1992, the Robinson family moved to the Temecula area after previous locations in Long Beach and Orange County. Together, Mike and Dave, expanded their business model to include product Instructions for Use (IFUs), including specialized map-folds, on very lightweight papers, for the Medical Device, Pharma, Diagnostics and OEM industries -- making a name for themselves in this very exclusive market.
Steven Label & Robinson Printing, together!
In its 93rd year of operations, the Robinson family was approached by Steven Label for help making product Instructions for Use (IFUs). Steven Label customers were expressing a desire to purchase more than just labels from the company. It soon became clear that these two like-minded organizations should unite, and they agreed to merge, so both manufacturers could offer more than ever to their customers. We are pleased that we can now provide our customers a Single Source for their Labels, IFUs and Folding Cartons. Mike Robinson now enjoys retirement, and Dave joined the Steven Label team as Business Development Manager.
Steven Label & Robinson Printing continue to expand their product offerings and have recently added a second Robinson Printing location in Temecula. We now have 6 locations between Santa Fe Springs, Temecula and Tijuana.