We are committed to delivering products that meet or exceed customer, regulatory, and industry requirements, ensuring continuous improvement of products, processes, and the Quality Management System.
In line with our commitment to excellence, we not only exceeded the previous ISO 9001:2015 standard but also established a higher benchmark with the advanced ISO 13485:2016 standard.
This sector-specific quality standard not only supports our customers but aids them in effectively managing their Quality Management System (QMS).
Quality Objectives:
RMA Cost below 1.25%
On-Time Delivery (OTD) of 95% or above
Internal OTD of 85%
Quote turn-around in one day
ISO 13485:2016 is a sector-specific quality standard for the medical device industry, superseding our ISO 9001:2015 certification.
Why ISO 13485:2016?
With a primary emphasis on the Medical Device industry, our ISO certification extends benefits to various OEM manufacturers, including those in Aerospace, Appliance, Health & Beauty, Food & Wine, Durable Consumer Goods, Electrical, and more. Steven Label recognizes the crucial role played by medical devices, which range from offering minor support to providing life-saving capabilities. Given their direct interaction with patients, it is essential that both the devices and associated documentation adhere to elevated standards for quality processes, error tracing, and accuracy documentation. Attaining this higher quality standard underscores our commitment to customers and aids them in administering their Quality Management System (QMS).
Impact on ISO 9001:2015
As ISO 13485:2016 is more comprehensive yet comparable to ISO9001:2015, this new certification enhances our commitment to your quality standard and seamlessly integrates into your quality system.
Certification Details:
Effective December 18, 2020, we completed our certification audit for ISO 13485:2016. Feel free to download a PDF copy of our certificate issued by Perry Johnson Registrars
If you have any questions, feel free to contact us at 1-800-752-4968.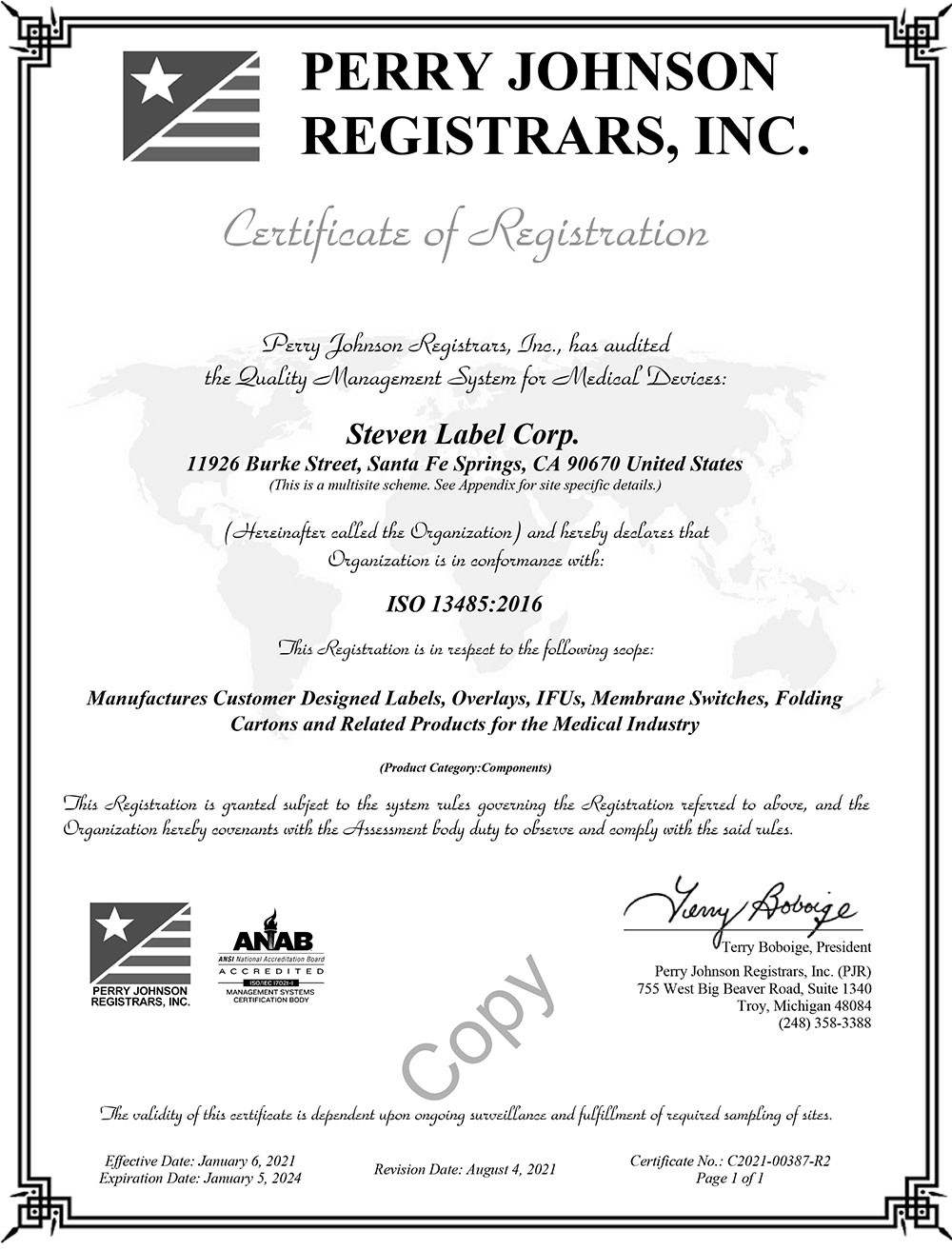 Click to Download ISO Certification