Resources
Membrane Switch Engineering
---
Switch Design **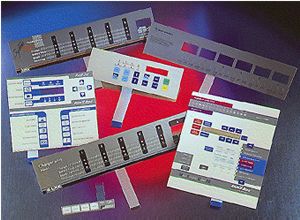 As your membrane switch source, we do much more than supply parts — we solve problems. Designing from the ground up, Steven Label can engineer a membrane switch tailored to your application. We work closely with your engineering team to design a cost-effective part with graphic appeal, dimensional accuracy, and strict conformance to all functional requirements.
** We assist in the development of our customers' designs.
Sophisticated Prototyping
Steven Label combines advanced color printing technology with precise computer controlled laser cutting (+/– .002") to generate near production quality prototypes in a matter of days. You can test design concepts and debug circuits early in the development cycle and get your product to market faster.
Continuous Flow
We understand the need to have your project completed on time and within budget. Steven Label produces switches in extremely short cycle times utilizing the same continuous flow processes that many of our customers have come to rely upon. These techniques allow us to compress lead times and respond quickly to rapidly changing production schedules.
Process Control
Steven Label's engineering and manufacturing systems control critical process parameters, including:
Silver ink conductivity, cure and flexibility
Dielectric ink cure and flexibility
High voltage current leakage and insulation breakdown
Ink thickness, adhesion and cure
100% Functional testing including: < >Contact Resistance Short and Open Circuits High Resistance Shorts and Current Leakage
Our dedication and expertise in process control is also evident in our role on the ASTM * Committee on Membrane Switches, which is actively developing industry test standards.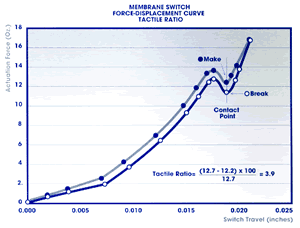 In addition, Steven Label's lab is equipped to perform the following tests to validate the design and manufacture of all membrane switches:
Actuation Force vs. Contact Resistance
Force - Displacement and Tactile Ratio
Life Cycle Testing
Contact Bounce
* American Society for Test Methods
Technical Specifications
---
The specifications listed below are typical for a generic membrane switch. Applications requiring
improved performance in one or more of these areas can usually be accommodated.
Please contact our application engineers to discuss your specific requirements.

Electrical Properties
Mechanical Properties
Contact Resistance:
Contact Bounce:
Shielding:
<100 Ohms
<25 Milliseconds
ESD, EMI or RFI
Switch Actuation Life:
Actuation Force:
Tactile Switch Travel:
1,000,000 Cycles
8 - 16 Ounces
up to .015"
Operating Conditions
Manufacturing Tolerances
Maximum Voltage:
Maximum Current:
Operating Temperature:
Storage Temperature:
Relative Humidity (Operating):
20 volts DC
100 Milliamps
-20°C to +60°C
-25°C to +85°C
0 to 95%
Color to Color Registration:
Die Cutting Size & Position:
Print to Die Registration:



+/– .010"
+/– .015"
+/– .020"

---