Electronics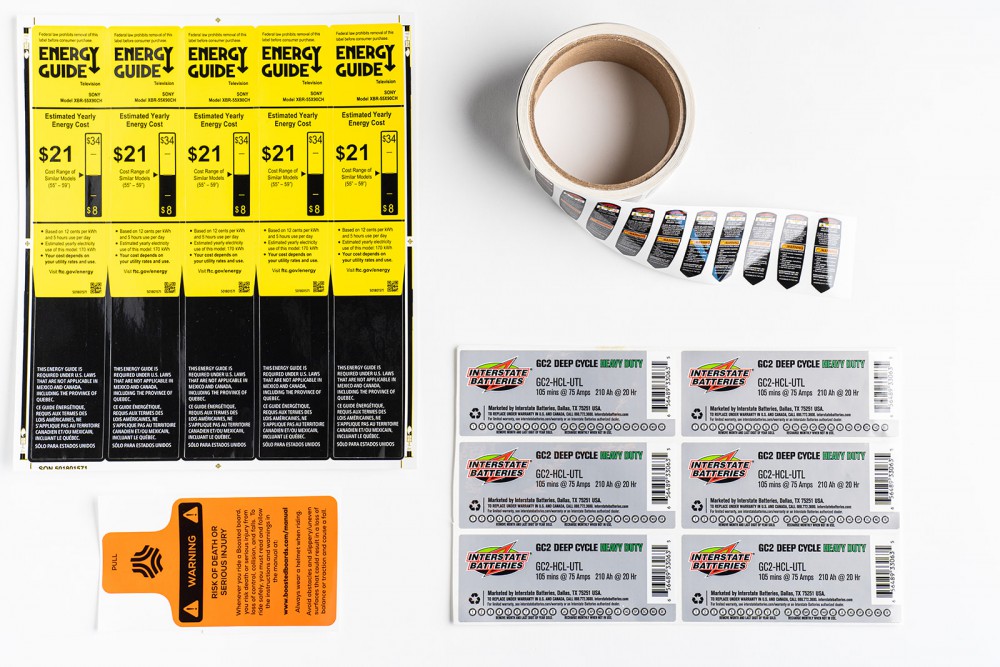 Understanding the challenges the Electronics Industry faces, is key to the solutions we provide.
High and Low Volumes
Whether your product is a television, electronic component, navigational or power tools, irrigation, personal security products, musical equipment, or ??? – we are poised to produce your product's labels and companion packaging with incredible care . . . whether your volumes are high or low.
In fact, we specifically excel at managing high volume SKUs, alongside low volumes and offer conventional and digital solutions for your labels, overlays, membrane switches, product instructions and folding cartons. We offer a complete solution for all your packaging and companion materials that accompany your high tech. products.
Have you noticed, the environment your product lives in wants to destroy it and its labeling!
We understand the need to develop your product packaging and labeling so it can be resistant to intense UV or water or chemicals . . . whatever the conditions! We will work with your development team to ensure your products' labeling and packaging components are protected; and we can even supply the supporting data to show the durability of your selected materials.
Multi-Industry Experience
We have extensive knowledge of the compliance required by your industry and many others – UL, cUL, RoHS, REACH, ISO, etc. Because of our vast multi-industry experience, we are often on the leading edge of new requirements because of our involvement in different verticals: Medical, Auto, Military, Electronics, etc.
Simply understanding your requirements – regulatory, environmental and consumer-intuitive – will help us guide you to the correct materials and certifications to build and engineer your perfect, compliant device.
Exemplary Quality backed by a powerful Quality Management System
When your supplier already has a Quality Management System in place, you'll find your QMS will work seamlessly together with theirs. Speaking a similar "quality language" and requiring analogous documentation, goes a long way to ensure simplified product quality and traceability.
Is it easy being green?
We recognize the obstacles manufacturers face when meeting their green initiatives. As a Sony Green Partner we have the system in place to quickly marry your environmental requirements with those we already have in place. Whether you're looking for FSC or biodegradability assessments, or trying to meet another green initiative, we can help!
STAT – a Real-Time Order Management System
STAT – or Supply Team Automated Tracking – is our web-based order management system – supplied free to all customers – and is truly a game-changer by providing transparency into our order process with real-time order status.
Learn more about STAT here: