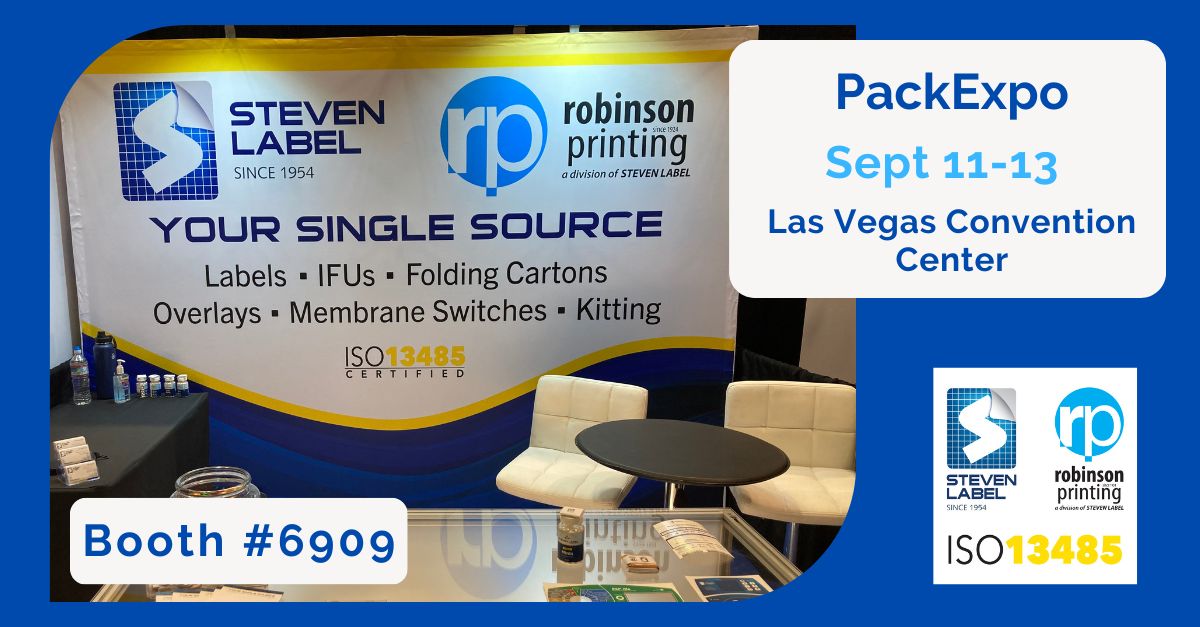 Discover Steven Label's Single Source Capabilities for all your Medical and Pharmaceutical Products at PackExpo Las Vegas 2023
Posted: August 16, 2023 |
Unveiling Innovative Solutions: Steven Label at PackExpo Las Vegas
PackExpo Las Vegas, one of the industries most anticipated events in the packaging industry is just around the corner. From September 11-13, 2023, industry professionals, experts, and enthusiasts will converge at the Las Vegas Convention Center to discover the latest advancements and innovations that are shaping the future.
At PackExpo Las Vegas 2023, Steven Label is excited to showcase its dynamic range of products and capabilities. We will be on hand to discuss how our collaborative approach and effective project management strategies contribute to solving complex labeling and printing challenges. Our dedication to the medical, pharmaceutical, and durable goods markets has solidified our expertise in the industry.
1. Innovative Medical Products and Engineering Design
In today's competitive market, standing out is crucial. Steven Label understands this and offers a broad range of printing options in addition to our engineering expertise. From Patient Implant Cards to thermal transfer and barcode labels to Medical IFU's - our single source capability to address all your medical product needs is what we do best.
2. ISO 13485 - the highest level of Medical Quality Assurance
The Medical and Pharmaceutical industry stands as one of our prominent sectors. These devices frequently interact closely with patients, serving roles that range from offering minor assistance for diverse medical conditions to facilitating critical life-saving functions. Given this context, ensuring the utmost quality in the devices themselves, along with their accompanying instructions, labeling, and packaging, becomes paramount. Our focus is on meeting stringent criteria for quality processes, enabling swift error tracing, and furnishing well-documented proof of accuracy.
In line with our commitment to excellence, we have not only surpassed our previous ISO 9001 standard but have also set a higher benchmark. This advanced quality standard, ISO 13485, not only supports our customers but also assists them in effectively managing their own Quality Management System (QMS).
3. Enhanced customer experience with order management - STAT
Meet STAT, also known as Supply Team Automated Tracking. This web-based order management system is offered to all our customers. It's a true game-changer, providing you with clear insights into the status of your orders in real-time.
With STAT, you can:
Easily check shipping and delivery dates for your open orders.

Keep an eye on the history of the parts you've ordered, and you can sort them by size and material right from your computer.

Get detailed information about each part, including its size, material, and the artwork proof.

Upload and approve artwork conveniently.

Track the shipping progress of your orders.

Access and download important documents like Certificates of Compliance.

And that's not all – there's a lot more to explore within the system.
Connect with Steven Label at PackExpo Las Vegas 2023
PackExpo Las Vegas offers an unparalleled platform for networking, learning, and discovering the latest trends in our industry. Don't miss the chance to connect with Steven Label and explore our products and capabilities.
The packaging industry is evolving, and Steven Label is leading the way with its revolutionary products and capabilities. With a strong focus on innovation, sustainability, customization, and smart technologies, we are looking forward to new opportunities. Mark your calendars and plan to stop by Steven Label's booth #6909. For a free registration, click on the image below and sign up.

For more information and updates, visit stevenlabel.com or call 800-752-4968 for more information. See you at PackExpo Las Vegas 2023!