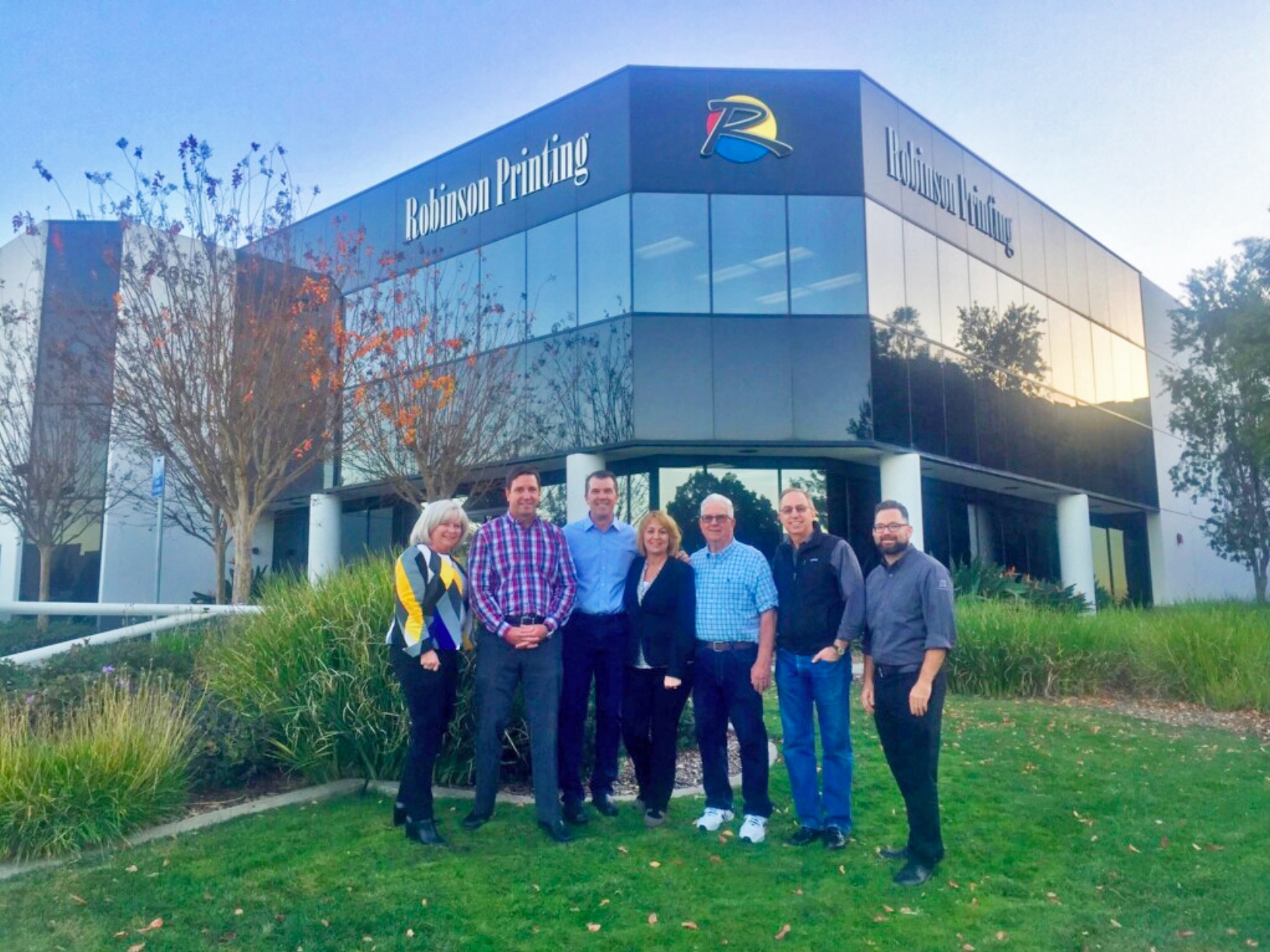 Steven Label Corporation Acquires Robinson Printing, Inc
Posted: December 13, 2017 | Press Releases
Santa Fe Springs, CA, December 13, 2017 - Steven Label Corporation, an industry leader in label manufacturing, announced today it has acquired Robinson Printing, Inc. of Temecula. Founded in 1924, Robinson Printing specializes in producing the product instructions-for-use (IFUs) and folding cartons that accompany medical devices, pharmaceuticals and other complex products. Terms of the transaction have not been disclosed.
The Robinson family expanded their founder's successful commercial printing business by targeting the medical device market after they purchased Maurice Printers in Temecula in 1992. Today, Robinson's reputation in the industry as a quality supplier with unmatched responsiveness, ranks among the very best in the trade. For more than 90-years, Robinson has focused on solutions to their customers by providing unique, custom-folding, lightweight papers and expert IFU engineering – saving their customers time and money, both in production costs and accurate order fulfillment.
"Becoming part of Steven Label will continue the legacy of Robinson Printing allowing us to grow and prosper," said fourth generation owner, Dave Robinson, President of Robinson Printing. "This is an ideal fit. Steven Label and Robinson Printing service similar markets and their company values and work ethics very closely match the principles we hold at Robinson Printing. That's very important to the Robinson Family and it was an essential requirement for the transaction."
"We are excited about bringing Robinson Printing's team into the Steven Label family of companies," said Steve Stong, President of Steven Label. "We saw the strategic fit, as Robinson Printing and Steven Label customers have increasingly been looking to consolidate suppliers. We can now provide labels, printed instructions and folding cartons to our customers. Additionally, Robinson Printing's customers will have access to our online order management tool, called STAT (Supply Team Automated Tracking). These customers will have access to their order status and history, ability to upload art, electronic proofing, shipment tracking as well as online access to documents such as Certificates of Compliance. We are pleased to continue to grow the Robinson Family's 93-year legacy of success and we are proud to welcome their employees and their families to ours. This is a big day for all of us."
The acquisition of Robinson Printing is Steven Label's second acquisition. Steven Label previously acquired Gold Coast Graphics of Corona, California, expanding Steven Label's presence in the consumer products industry, with a particular emphasis on wine labels. With the addition of Robinson Printing, Steven Label now employs approximately 180 employees and has five manufacturing locations, in Santa Fe Springs, CA, Temecula, CA and Tijuana, Mexico.
About Robinson Printing
For five generations, Robinson Printing has provided high quality Paper Packaging and Offset / Digital Printing that includes an emphasis on printing the Instructions For Use (IFU) that accompany a medical device, pharmaceutical or other complex product. A certified supplier to the medical industry for more than 30-years, Robinson Printing produces map folds, mini folds as small as 3⁄4" square, booklets, adhesive IFUs, folding cartons & trays. Robinson Printing's emphasis on quality (ISO 9001 and GMP), make them valuable both to Start-up Operations, as well as several Fortune 500 companies. Currently they produce and ship their products all over the world.
About Steven Label
Steven Label has been manufacturing labels for more than sixty years. With factories in the U.S. and Mexico, the company has silk screen, flexo, digital, off-set and hot stamp printing capabilities. ISO certified and FDA approved, Steven Label produces overlays and nameplates, bar-coded and variable data labels, insulators and shields, point-of- sale, thermal transfer, domed and UL/CSA labels.
Media Contact:
Don Chelius, Steven Label
Phone (562)236-4700 Don.Chelius@StevenLabel.com
11926 Burke Street Santa Fe Springs, CA 90670 www.stevenlabel.com