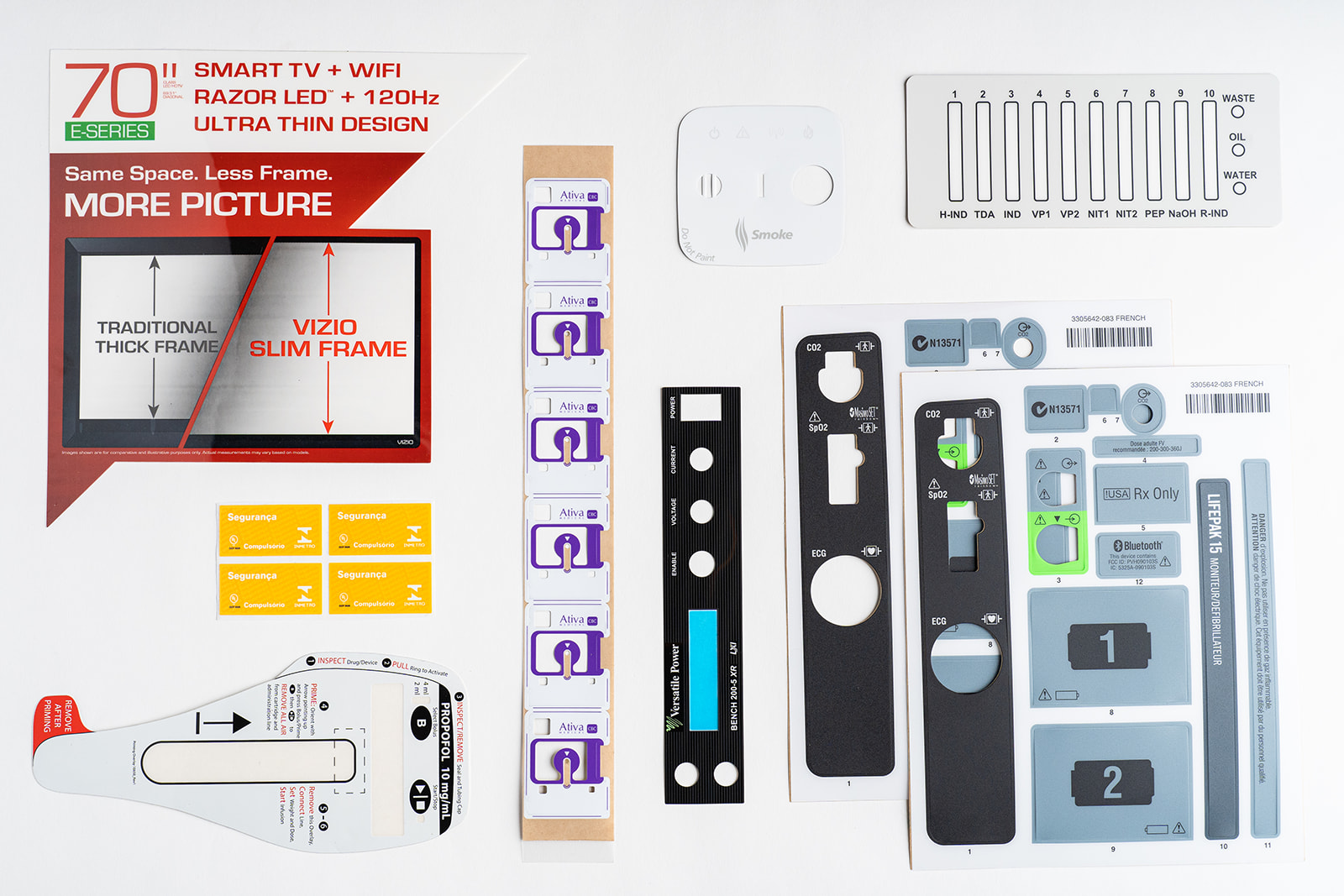 Custom Graphic Overlays: A Comprehensive Look at Materials and Techniques
Posted: September 28, 2023 |
Custom Graphic Overlays
In the ever-evolving world of product design and branding, achieving the perfect blend of aesthetics and functionality is paramount. Graphic overlays, often crafted from materials like polycarbonate, polyester, and more, serve as integral components in enhancing the visual appeal and usability of products across various industries. In this comprehensive guide, we delve into the intricacies of graphic overlay materials and the advanced printing techniques employed to bring your brand's vision to life.
Exploring Graphic Overlay Materials
Polycarbonate - The Rugged Performer:
Polycarbonate stands out as a go-to choice for graphic overlays, known for its resilience and impact resistance.
Its exceptional optical clarity makes it the material of choice for displays and backlit applications.
Additionally, polycarbonate overlays boast remarkable scratch resistance and dimensional stability, ensuring your brand remains pristine.
Polyester - The Versatile Workhorse:
Polyester, often referred to as PET, offers a versatile solution for graphic overlays.
Renowned for its durability and chemical resistance, it thrives in outdoor and industrial environments.
Polyester overlays can be surface printed or reverse-printed to add an extra layer of protection, maintaining your design's longevity.
Polyester is often the top or first layer of a membrane switch making it an ideal material for embossed buttons.
Unleashing Advanced Printing Techniques
Silkscreen Printing - Precision in Every Stroke:
Silkscreen printing, an artful technique, delivers high-quality, precise graphics.
It excels in creating intricate details and vibrant colors, ensuring your branding elements shine.
Our skilled artisans employ silkscreen printing to bring your vision to life with unparalleled precision.
Digital Printing - Mastering Consistency:
High-Quality Graphics: Digital printing allows for the reproduction of high-resolution and intricate graphics. This is particularly important for overlays that require detailed images, logos, or text. The digital printing process can achieve sharp and vibrant results that enhance the overall appearance of the overlay.
Variable Data Printing - Digital printing enables variable data printing, meaning that each printed overlay can be customized with unique information such as serial numbers, barcodes, or variable text. This is valuable for applications where individualized overlays are needed, such as in product labeling.
Cost-Effective for Short Runs - digital printing is highly cost-effective for shorter runs. This is advantageous for overlays that are produced in smaller quantities, allowing for flexibility and cost savings
Finishes that Define Excellence
Velvets, Gloss, Mattes, and Beyond:
To achieve the perfect look and functionality, we offer a wide array of finishes.
Whether you prefer the tactile elegance of velvets or the crystal-clear aesthetics of polished clear, our finishes enhance both visual appeal and usability.
Mattes, gloss, and textured finishes round out our selection, allowing you to tailor your overlays to your brand's unique identity.
Adhesive Systems for Every Need:
We understand that adhesive systems are pivotal in ensuring your overlays seamlessly adhere to your products.
Our extensive range of adhesive options guarantees a secure fit, regardless of the surface.
Function meets form as our adhesive systems ensure your overlays stay put while looking impeccable.
Color Matching Expertise:
We recognize the critical importance of color matches in graphic overlays.
Leveraging computer color matching and advanced techniques, we maintain precise control over colors.
Your branding elements will be showcased with breathtaking accuracy, leaving no room for compromise.
Rapid Prototyping with Digital Printing:
In today's fast-paced world, speed is of the essence.
We employ digital printing systems and electronic cutters for a smooth exact finish to swiftly create prototypes.
This nimble approach allows us to fine-tune your designs with agility, ensuring they align seamlessly with your brand's vision.
In conclusion, Steven Label's dedication to using top-notch materials and cutting-edge printing techniques ensures that your graphic overlays not only meet but exceed your expectations. With a relentless commitment to quality, we are here to elevate your brand's visibility and functionality through custom graphic overlays.
For inquiries or to explore our services further, please contact us at 1-800-752-4968 or use our Contact Us form. We can be your single source supplier for all your overlay needs.