Blog
Simon Cheung — Celebrating 43-years of Service at Steven Label!
---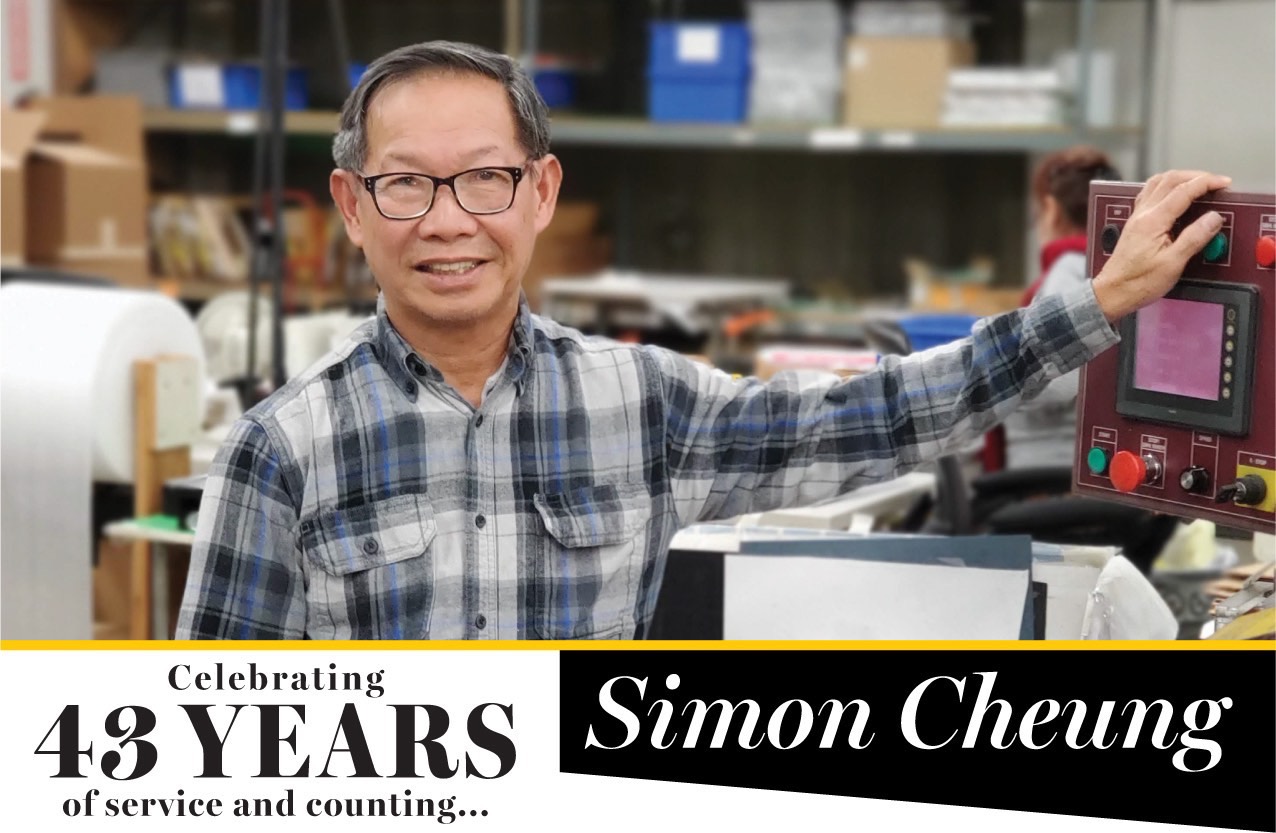 Simon Cheung — Celebrating 43-years of Service at Steven Label!
Posted: January 6, 2020 |
Nate Shearer, Vice President of Operations at Steven Label, sat down with some of the company's most seasoned employees. This series of interviews gives us a glimpse into their personalities, qualities, and what has been integral to their success.
About Simon
Simon always has a happy and positive disposition. It is an uncommon occurrence to stop and say 'Hi' to Simon and not see a big smile on his face. He is committed and competent, two important skills in any job. He regularly golfs with a few supervisors and has also golfed with one of our board members, Robert Harvey.
Milo Magno, a regular on the course with Simon, says, "He is a good golfer. His swing is not something that you would want to use to teach a new player, but it really works for Simon. Simon worked really hard to make sure he enjoys the game for him and plays at a high level. Also, he is an excellent person to argue with. He will wrap you up so you don't know which way is up, and then leave the conversation at, "So, you get my meaning?!"
Simon started working for Steven Label in 1977. He is one of our lead die cutters manufacturing overlays and membrane switches, primarily for the industrial and medical device industries.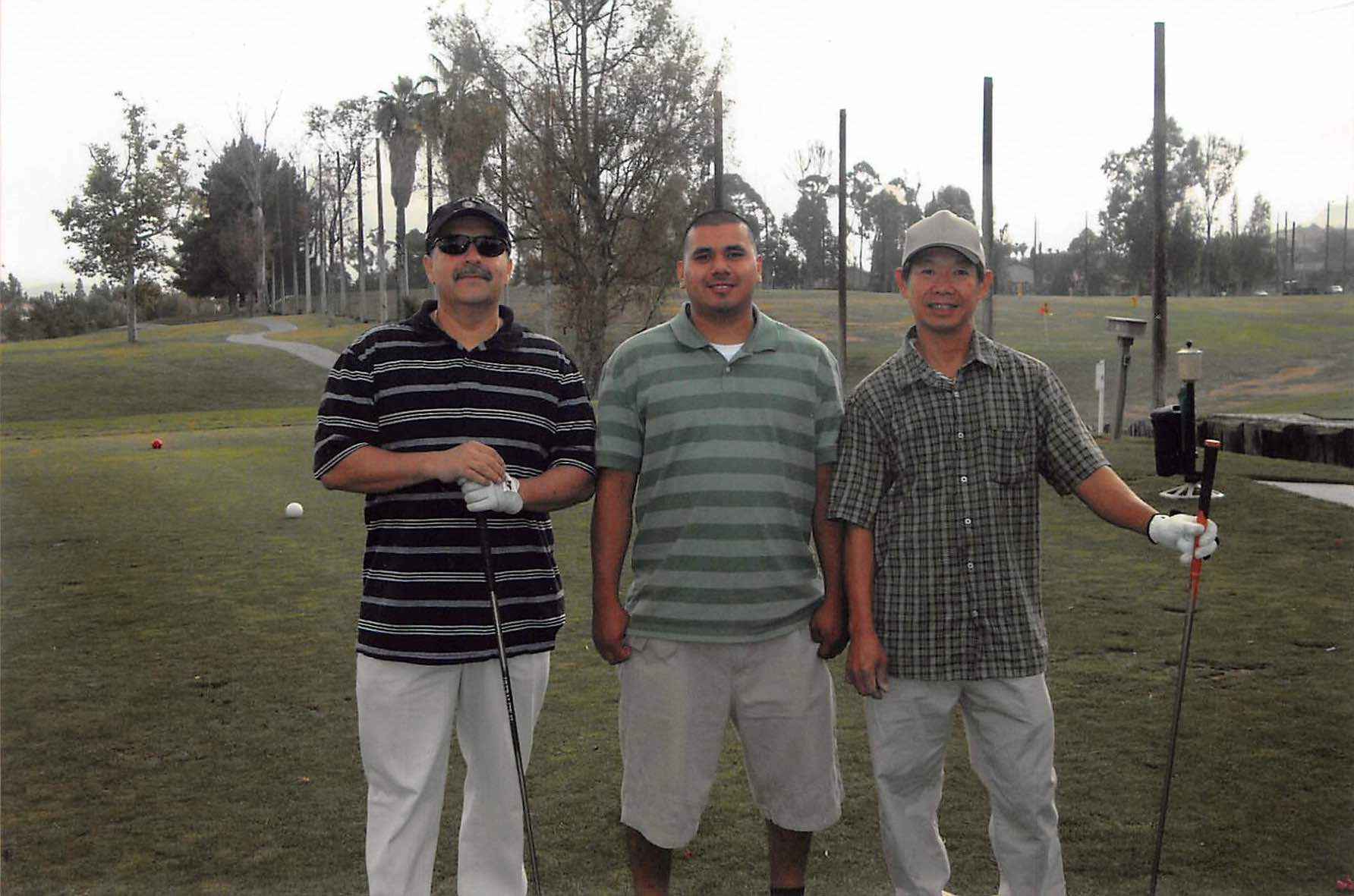 SIMON AT A GOLF OUTING WITH FELLOW COWORKERS
What are your hobbies?
I really enjoy golfing. I used to enjoy bowling but actually the indoor environment with all of the smoke started to bother me. My brother always golfed and when I joined him I quickly caught the bug. There are some really excellent quality golf courses that I enjoy in Southern California but I have also made trips in other states for some excellent golf. I golf a lot with my brothers as well. I have regularly golfed with other Steven Label employees for quite a long time. We have shared a lot of memories on sunny afternoons together. I enjoy it a lot. Despite, my best effort, I have still have yet to get a hole in one! Lucky for me, I still get plenty of time to enjoy the sport.
Dave Anderson, who has golfed for years with Simon, recalled a very exciting day on the course: "At Coyote Hills Golf Course, one of the holes is really elevated. Simon was convinced his ball kept rolling after a drive from the tee. Dave and the rest of the players tried to convince him otherwise. After they drove down to the fairway, there were hundreds of cottontail rabbits enjoying a morning snack on the course. The little white tail looked just like a golf ball moving around the course from a few hundred yards away."
What does your favorite vacation consist of?
Vegas, baby! It's a lot of fun. I have gone with a large group of friends and we always have a good time. There are many exciting moments that have been had. I like playing games like Pai Gow, Blackjack, and even some sports betting has been really fun.
SIMON WITH SOME OF HIS MANY GOLFING TROPHIES
What could you teach me to do?
I focused a lot at the driving range at the golf course. I don't hit the ball as far as I used to so I pay a lot more attention to hitting with good technique. I think that's one of the things I see with younger golfers, they use their muscles instead of their heads on the course, and that only works for a little while. Also, I really like to play table tennis and a good opponent that challenges me is something I enjoy. Losing to me at ping-pong is a good way for people to learn how to get better! There are other table tennis players at Steven Label that are really good. Huy Tran is an excellent player and can teach us all a thing or two!
What prompted you to emigrate from Hong Kong?
My uncle immigrated to the U.S. when he was very young and earned his way to become a Colonel in the U.S. Army. He spoke with my mother about the opportunities in Los Angeles and we made the move with my entire family, my mother and 8 or 9 of my extended family all at once. It was quite an adventure!
How did you get started in the industry?
In Hong Kong, I worked in the same industry. When I immigrated in 1976, I found a classified job posting in the Los Angeles Times. I actually started my first job at a computer printing paper manufacturer and quickly realized that it was a bunch of really strong guys moving around material that was taller than I was! Then I found Steven Label in the classifieds and when I figured out they printed similar products to what we made in Hong Kong, it was a much more similar environment for me.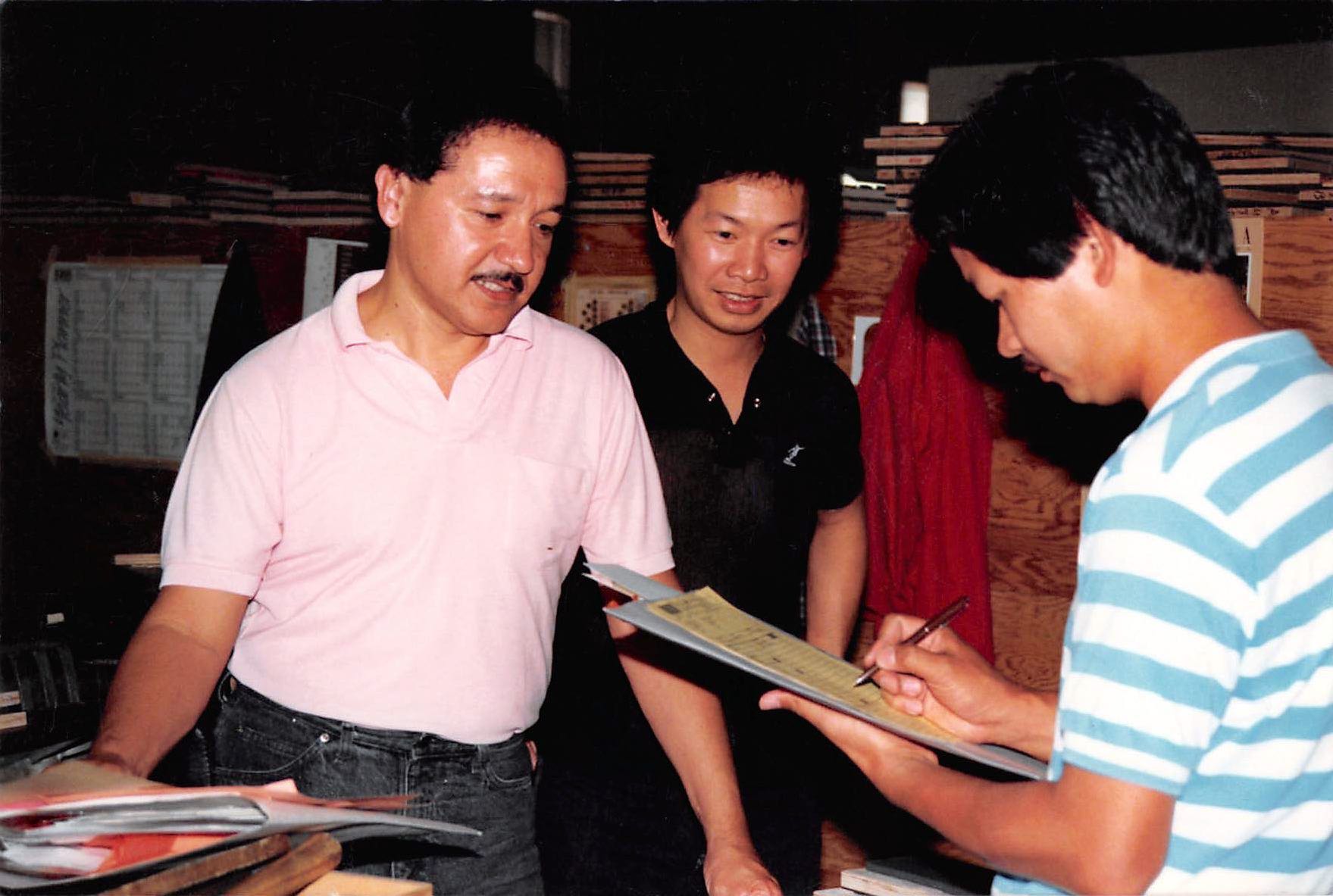 SIMON HARD AT WORK WITH ALBERT (LEFT) AND MILO (RIGHT); (ALBERT RETIRED IN 2017 AFTER WORKING FOR STEVEN LABEL FOR 53 YEARS AND MILO HAS BEEN WITH US FOR 39 YEARS!)
What has been one of the biggest changes you've seen while working here?
When I first started here, I saw that there was a lot to learn about the printing business. For 3 years after work, I took time to study at the Washington College in downtown Los Angeles, trade school, to teach me all about printing, from art to inspection and everything in between. Once I learned that, I knew printing was in my blood and I never wanted to leave. It really helped me. I don't see as many people taking the initiative to better themselves on their own unless it is at a 4 year University. Trade school was great for me, and I suggest that younger people who may be unsure of what they want to do should give a trade or technical school a try. It gave me a lot of value and security for myself and my family.
What advice would you give to future employees that are new at Steven Label?
Steven Label inspired me to keep learning. Always keep learning; you are in control of your future. Don't worry about limiting yourself. I haven't met anyone who learned about a skill or trade and was worse off for it. I have learned a lot of things, many of them helped me in my career or my personal enjoyment of life.
Thank you for your continued contribution to Steven Label, Simon!