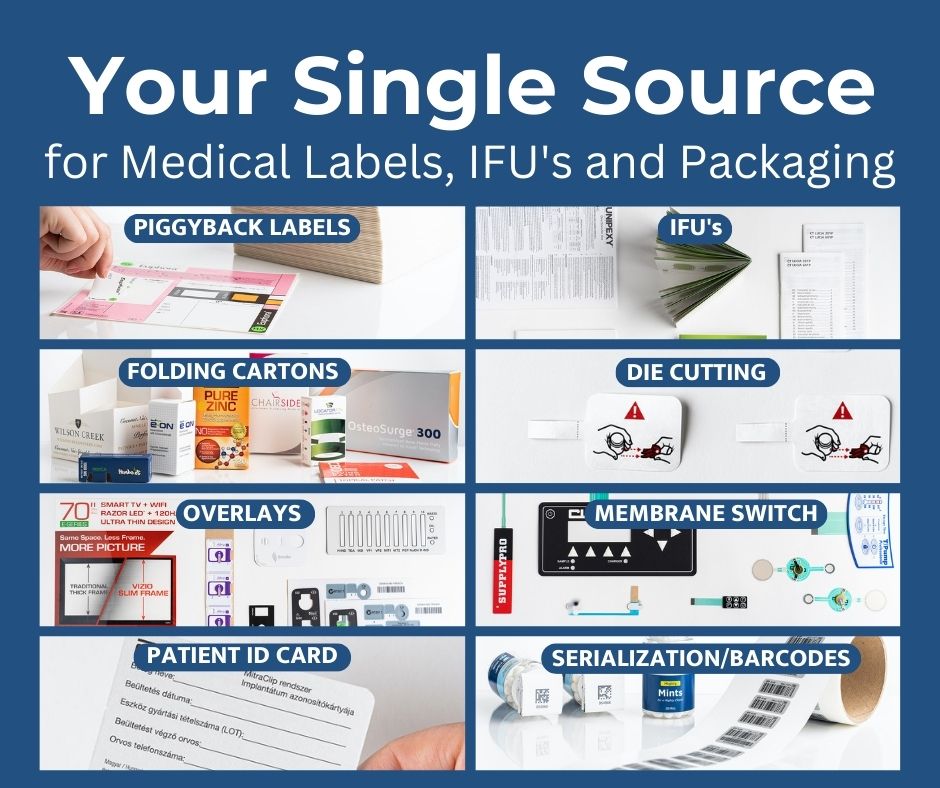 The Benefits of a Single Source ISO 13485 Certified Supplier for All Your Medical Product Packaging and Labels
Posted: October 25, 2023 |
In the highly regulated and rapidly evolving medical industry, it is imperative to ensure that your medical products are not only effective and safe but also correctly labeled and packaged to meet compliance requirements. By consolidating your medical packaging and labeling needs under one provider with ISO 13485 certification, you can experience numerous advantages across a range of critical products and services. This integrated approach can lead to improved brand image, cost savings, time/employee efficiency, and industry expertise.
Medical Overlays
Medical overlays serve as the interface between medical professionals and equipment, and they need to be designed with precision and durability in mind. Our engineers participate in the design and testing process of custom-designed overlays that meet stringent quality standards, ensuring the highest level of performance for your medical devices.
Membrane Switches
For medical devices with user interfaces, membrane switches are a crucial component - our team at Steven Label has designed hundreds of medical membrane switches, we understand the environments they live in and their requirements. Therefore, you can trust that your membrane switches will be seamlessly integrated with your device, providing user-friendly control and reliability.
Specialty Die Cut Products
Specialty die cut products, such as gaskets or seals, require precision and expertise in manufacturing. Our experience with custom-designed die-cut materials is extensive and we understand the precise and custom features that meet the performance requirements for your medical device.
Serialized Barcode Labels
Maintaining traceability is vital in the medical industry. Steven Label can produce serialized barcode labels that not only meet compliance requirements but also enhance tracking and reconciliation in your labeling and packaging processes, reducing the risk of errors, and enhancing traceability.
Medical Piggyback Labels
Medical piggyback labels are a versatile tool for providing additional information or extended content in a compact format. Steven Label can create piggyback labels that precisely fit your packaging, ensuring that your product information remains clear and compliant. Tell us more about the use of piggyback labels in your process?
Patient Implant Cards
Patient implant cards are a critical component of many medical devices, providing essential information for both healthcare professionals and patients. Our Patient implant cards offer durability and the ability for your company to add variable information via thermal transfer, laser or ball point pen. These cards are customized for your specific requirements while ensuring you conform to the regulatory requirements for your implant.
Medical Device Mounting Cards
Medical device mounting cards are crucial for securely holding and displaying medical devices within their packaging. Typically made of a durable, lightweight material such as high-density polyethylene (HDPE). Mounting cards are custom designed to fit the specific medical device, ensuring a secure and professional presentation.
IFUs (Instructions for Use) Medical Inserts, Outserts and Booklets
Clear and compliant instructions for use (IFUs) are essential for ensuring that medical devices are used correctly and safely. We specialize in lightweight paper, 27# through 40#, but we also offer many other papers for use for booklets and manuals. We can print in one-to-many colors and can fold or bind to the specific size needed for your package.
Folding Cartons
Through our "Simplify the Buying Process" strategy our customers have enjoyed buying all of the products above including folding cartons from one company as their single source. Ask us how we can help you with folding cartons as we have helped several companies consolidate their supply base by offering labels, IFU's and folding cartons as a single source.
In addition to the specific advantages provided by each product or service, there are several overarching benefits to using a single-source supplier for all your medical product packaging and labels:
Consistency: Collaborating with a single supplier ensures that all your medical product labels and packaging maintain a consistent look and feel. This consistency can enhance your brand image and improve user experience.

Quality Control: A single-source supplier can maintain rigorous quality control measures, ensuring that all products meet the highest industry standards. This reduces the risk of defects or non-compliance.

Cost Efficiency: Consolidating your packaging and labeling needs with one supplier can often lead to cost savings through economies of scale and streamlined production processes.

Time Efficiency: Streamlining your supply chain by collaborating with a single supplier can reduce lead times, allowing you to bring your products to market faster.

Regulatory Compliance: ISO 13485 certification signifies a commitment to quality and compliance. By partnering with an ISO 13485 certified supplier, you can have confidence in your products meeting regulatory requirements.

Tailored Solutions: A single-source supplier can collaborate closely with you to create customized solutions that align with your unique product and branding requirements.
In conclusion, Steven Label has the experience, regulatory ISO 13485 certification and resources to meet all your medical product packaging and labeling needs. This approach can enhance the quality, consistency, and compliance of your medical products, while also providing cost and time efficiency. Whether you require medical overlays, membrane switches, specialty die cut products, serialized barcode labels, piggyback labels, patient implant cards, medical device mounting cards, or IFU medical inserts and outserts, partnering with a single supplier can significantly contribute to the success of your medical device manufacturing operations.
Call us to schedule a time to discuss your medical product needs and we would be happy to explore the many product opportunities that we have available for you. For more information, feel free to call us at (800) 752-4968.